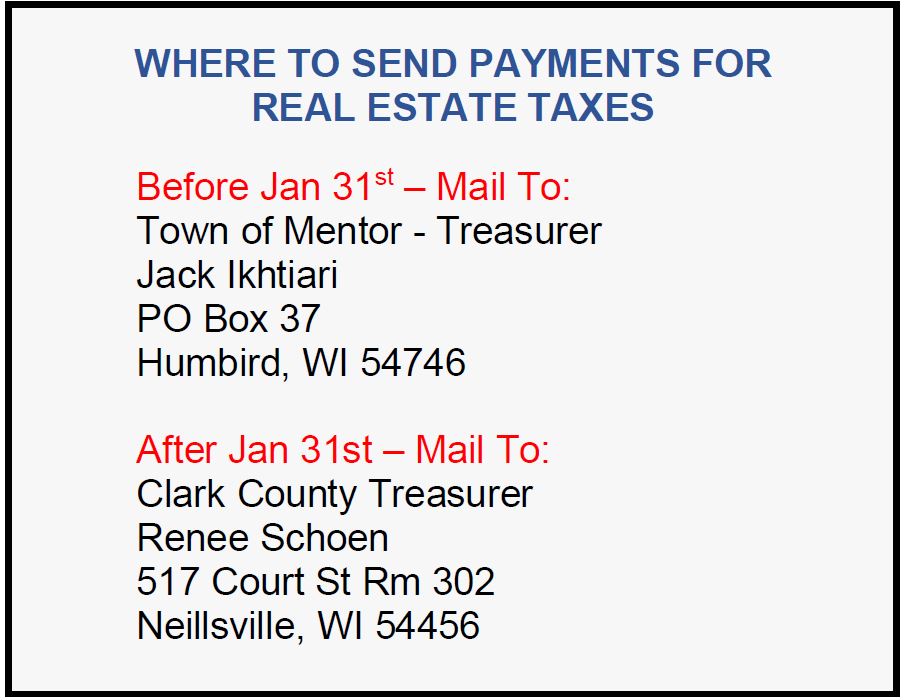 ---
Help Wanted
The Town of Mentor is seeking a person to work in the town shop. Position will be responsible for activities related to Road Maintenance, Installing Culverts, Snow Plowing, Maintaining Town properties, and Equipment Maintenance.
This is an hourly part-time position and is paid bi-monthly. Ideally this candidate will be a resident within the Town of Mentor. Preferably someone who has experience operating a grader, plow truck, and should have the ability to obtain a CDL. Please email your completed application and/or resume to townofmentor@centurytel.net. Or mail it to: Town of Mentor, P.O. Box 37, Humbird, WI 54746. You can also stop in the office to fill out an application between 9am – 1pm M-W-F. For additional information call 715-964-1019 or visit our website at http://townofmentor.com
2023 Trash Pickup Calendar
You can download calendar here >>>> 2023 Trash Pickup Calendar <<<<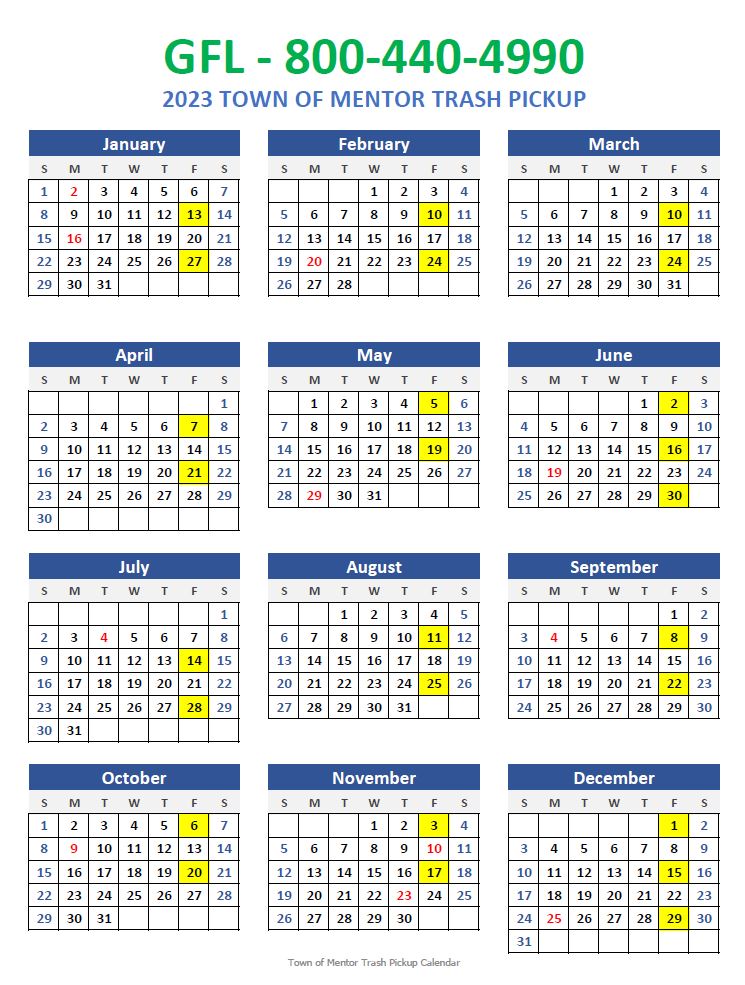 Adopted 2023 Budget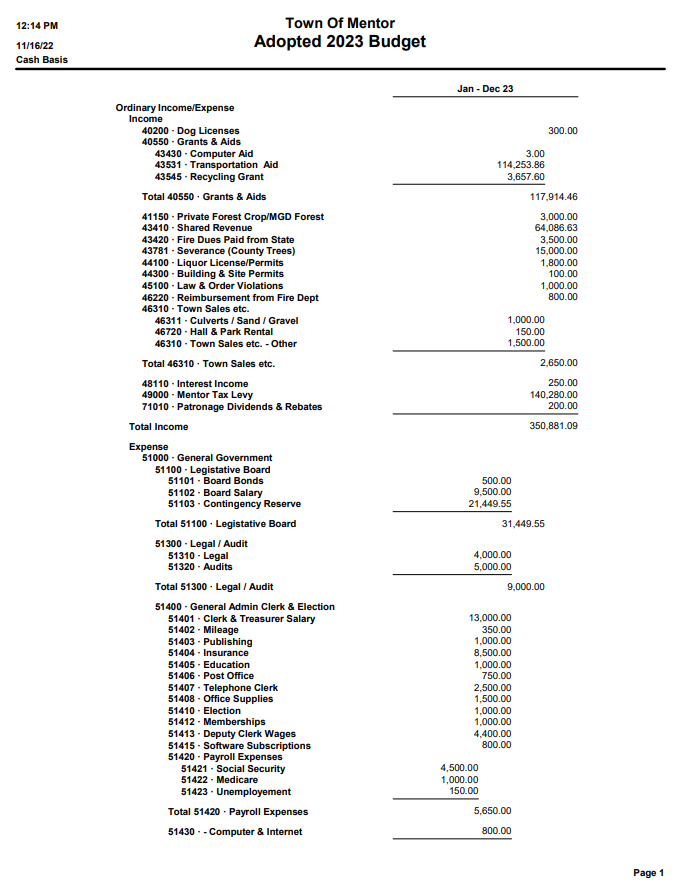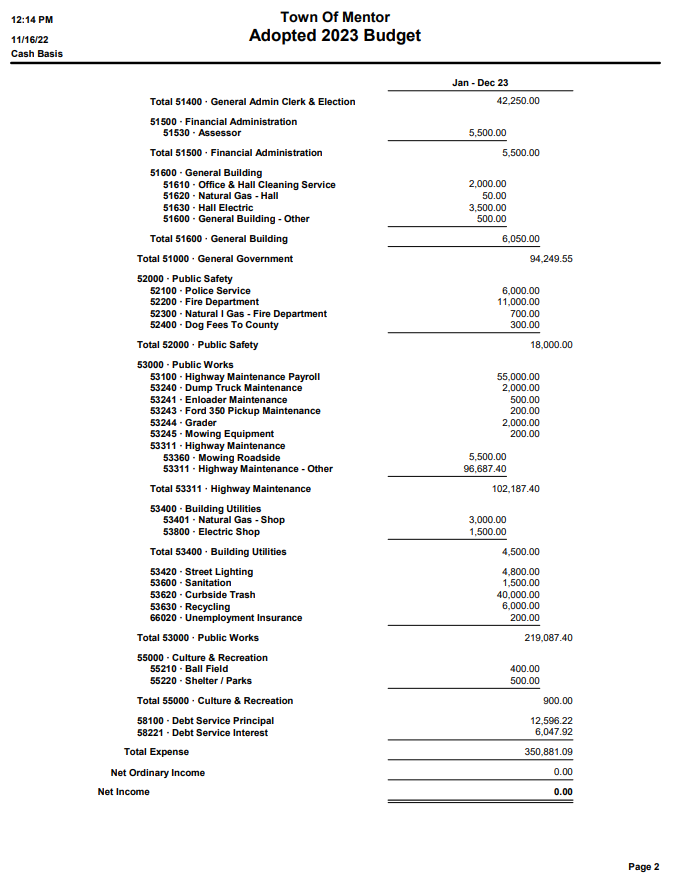 Notice of 2023 Spring Elections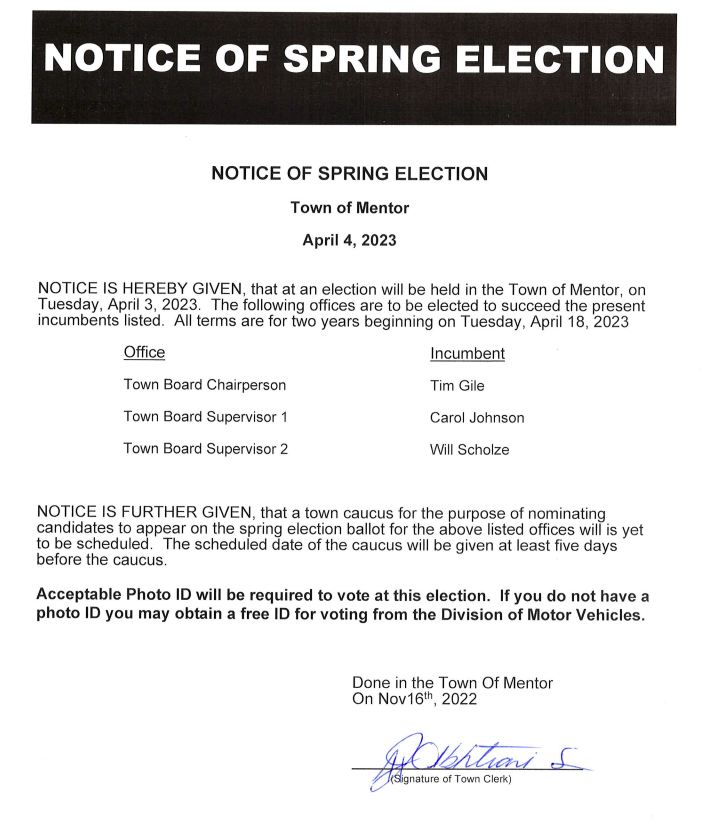 ---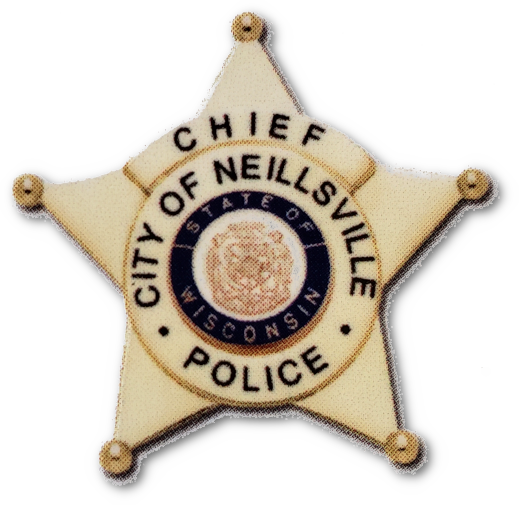 Town of Mentor is now contracting with the Neillsville Police Department to enforce local ordinances.
The Town of Mentor is now contracting with the City of Neillsville Police Department for part-time patrol services. The Neillsville police officers are committed to community policing and positively impacting residents, businesses, and visitors. Police contact numbers:
Emergencies Dial 911
Non-Emergency

(715) 743-3122 Neillsville PD
(715) 743-3157 CC Sheriff

email: nvpdpolice@gmail.com
2022 Trash Pickup Schedule from Green For Life Environmental (GFL)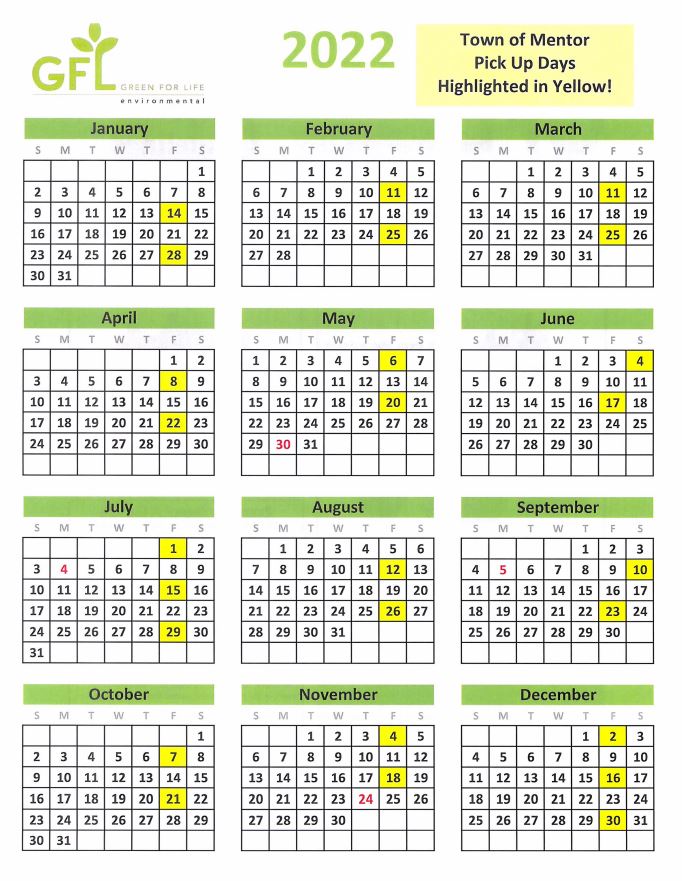 ---
---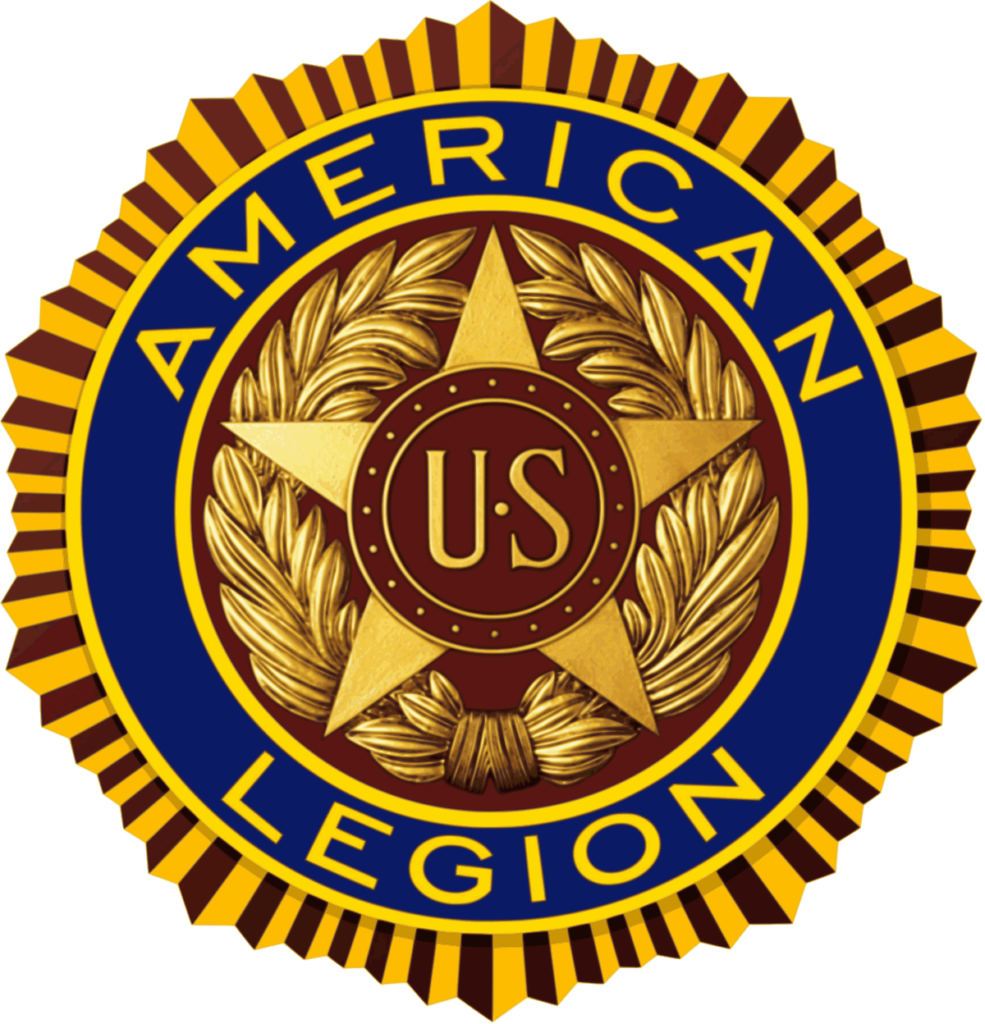 The Humbird American Legion Auxiliary Post 320 is looking for additional members.
We are very active in our community and could use your help!
We provide volunteers for the bi monthly Feed My People food distributions, we cater food at funerals and other events, we coordinate the Breakfast with Santa event in December and the Memorial Day Service and luncheon in May, plus a number of other events. We are able to donate funds to local veterans during their times of need, and at Christmas time. We are making a difference in our community. Please consider joining us. Our organization meets on the third Monday of the month at 5:30 pm at the Mentor Town Hall. There are some requirements in order to be eligible to join the Auxiliary (must have a close relative that served in a branch of the military, etc.) For more information, and to determine if you meet the eligibility requirements, please contact Jan Elfering at 262-914-5949.
---
Rental Assistance Available
Call 715-530-5044 to learn more or visit their website at https://www.wiscap.org/wera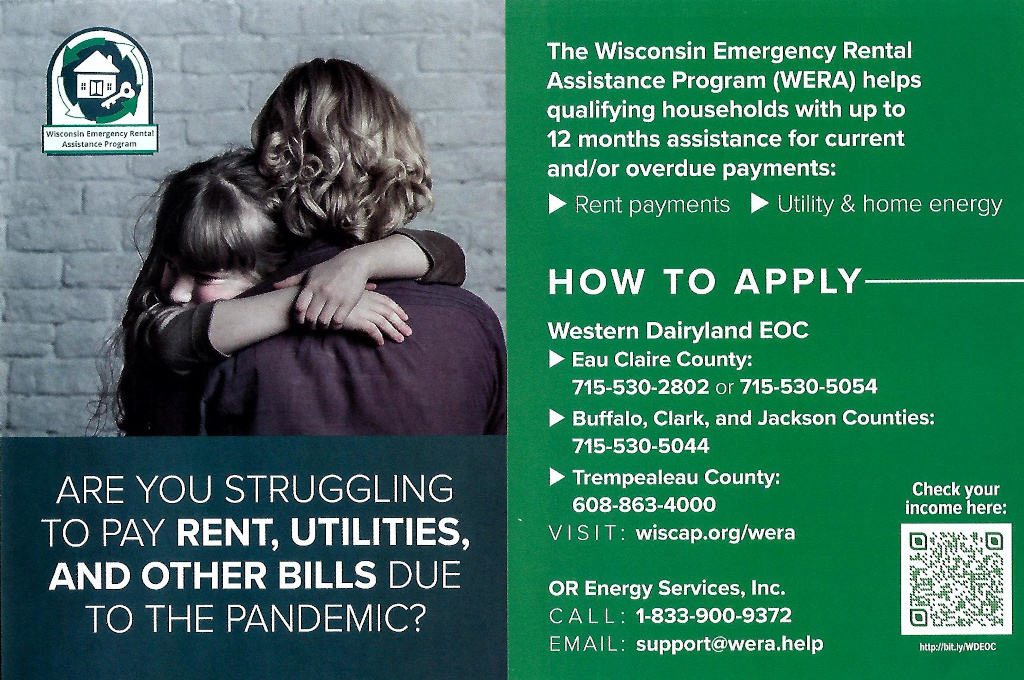 ---