COVID TESTING JULY 21
Taylor County Fair Ground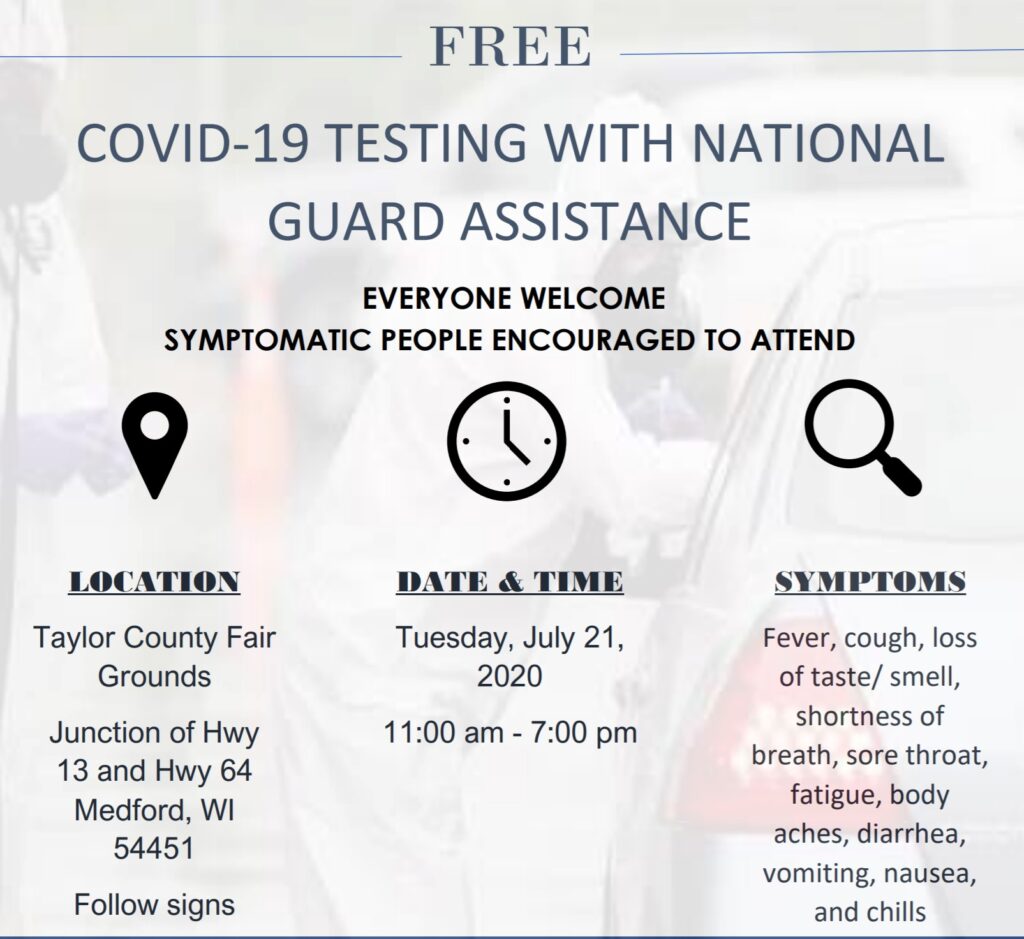 Clark County Health Dept – Covid 19 Business Toolkit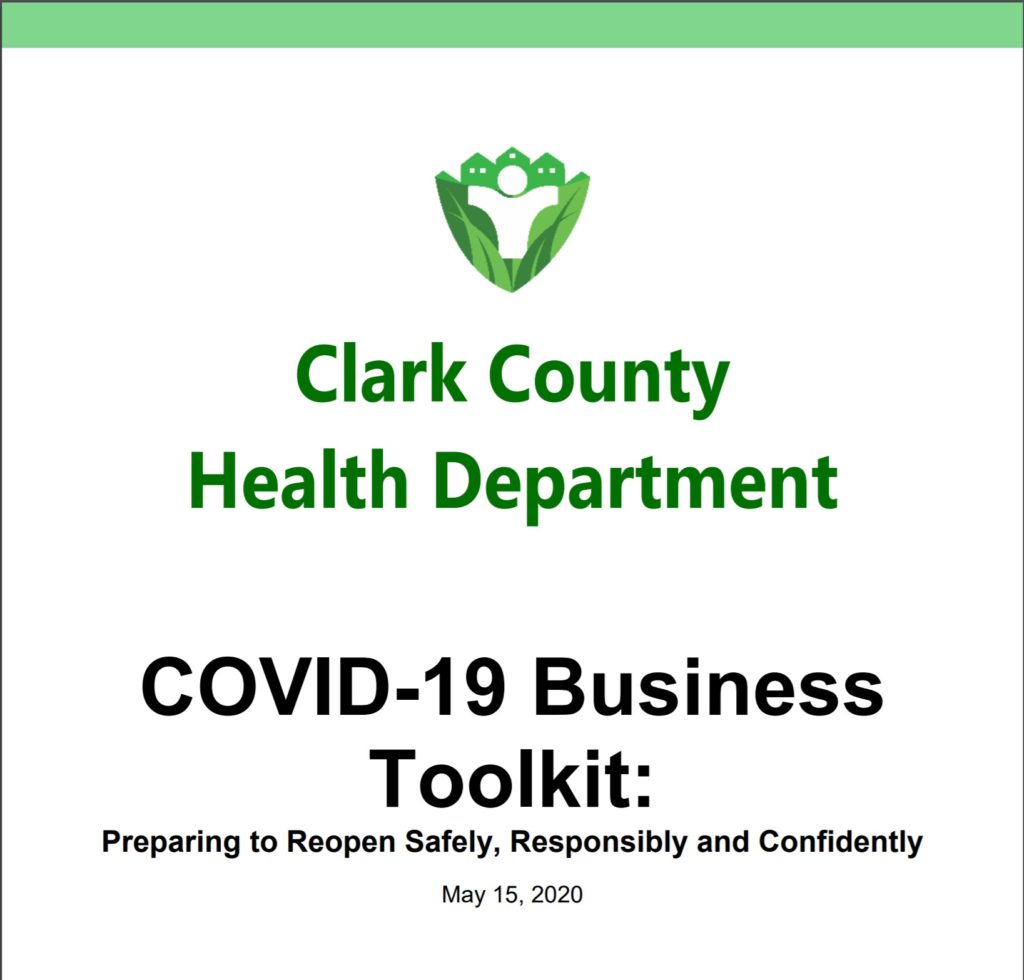 Latest on COVID-19 in Clark County
Stay up to date on outbreaks & official communications in Clark County Wiscoonsin. Click Here
Annual Meeting
Annual Meeting will continue as planned at 10:00 on Saturday April 25th, 2020. Please be prepared to follow social distancing rules of staying 6ft apart.
COVID-19
Letter from Chairman Gile in regards to COVID-19
Link to Wisconsin Outbreak Stats
Link to Clark County – COVID-19 Page
Governor Evers Emergency Order Emergency – Prohibiting Mass Gatherings
Clark County Health Department – 3/17 COVID-19 Notice
Clark County – Proclamation of County of Emergency
Vote Absentee Ballot
Deadlines:
April 3rd 5pm – Deadline to request your Absentee Ballot
April 13th – Deadline to receive your completed Absentee Ballot

Town of Mentor Citizens are encouraged to submit Absentee Ballots to vote in the upcoming Spring Election and Presidential Preference Primary on April 7, 2020. You may obtain an absentee ballot application by following the link below. If you have any questions please call 715-964-1019.

Helpful Links:
Notice – Assessor Revaluation
A revaluation assessment of all real and personal property for the municipality will be conducted from March 9th, 2020 through October 31st, 2020. Click here to see full notice
2019 Chairman Report
Hello Everyone!
I'm happy to report that 2019 is wrapping up to be another successful year for our Town. Our town is slowly moving forward with cleanup ordinances, infrastructure improvements, and community beatification projects. Although it's been a challenge, I feel the positive impact it is having and hope that our residents have the same feeling as I do.
Following are only some of the noteworthy 2019 happenings that the town has been working on.
11 culverts and one alley way culvert were replaced. Some to a bigger size due to the amount of rain that we have been receiving.
The town has been working with Core Engineering who has been assisting the town with applying for the two MLS grants. The MLS grants are 90 / 10 programs. First project is to rebuild King Street, the second is to replace the bridge on main street down by the dam.
After extensive clean-up around the garage at the corner of Hwy. 12 and Clark St., the town cut down trees and began a large landscaping project which is projected to be completed sometime in 2020.
The State awarded the town a grant to replace the bridge on Fairview Road. This project has begun with sample boring and soil testing. The project should be completed in 2022.
In November of 2018 the town began negotiations with Express Disposal who wants to build a Transfer site on the land that they have acquired west of Hickman Rd. along Hwy. 10 The town has taken a stance against this. And we are still fighting with the help of the Town's Attorney.
The town will continue enforcing ordinances and updating out-of-date ordinances.
The Town of Mentor also celebrated its 150th Sesquicentennial, and it was a great success. The town would like to thank everyone that attended the celebration and thank Sue Larson and the many others that helped made the 150th a great success.
On behalf of the Town Board I would like to thank the residents of the Town of Mentor for continually giving me the opportunity to serve you.
Thank you
Timothy Gile, Town Chairman
---
2020 Trash Schedule
---
Public Budget Hearing
Notice is hereby given that on November 12,2019 at 6 p.m. before the regular monthly town board meeting, in the Mentor Town Hall, N3049 King Street. A Public Hearing on the Proposed 2020 Budget for the Town of Mentor, Clark County, will be held. The proposed budget in detail will available for inspection by contacting the Town Clerk. Read the full notice
2020 Snow Plowing
It's that time of year again. Keeping your driveway clear after a wet heavy snowfall can be challenging, specially if you're not physically able or just don't have the time due to work or other commitments.
The Town of Mentor offers plowing services to residents for nominal fee of $175 per winter season. To sign up this season you'll need to sign a contract. For more details please call the towns office at (715) 964-1019
>>>> View Contract by Clicking here <<<<<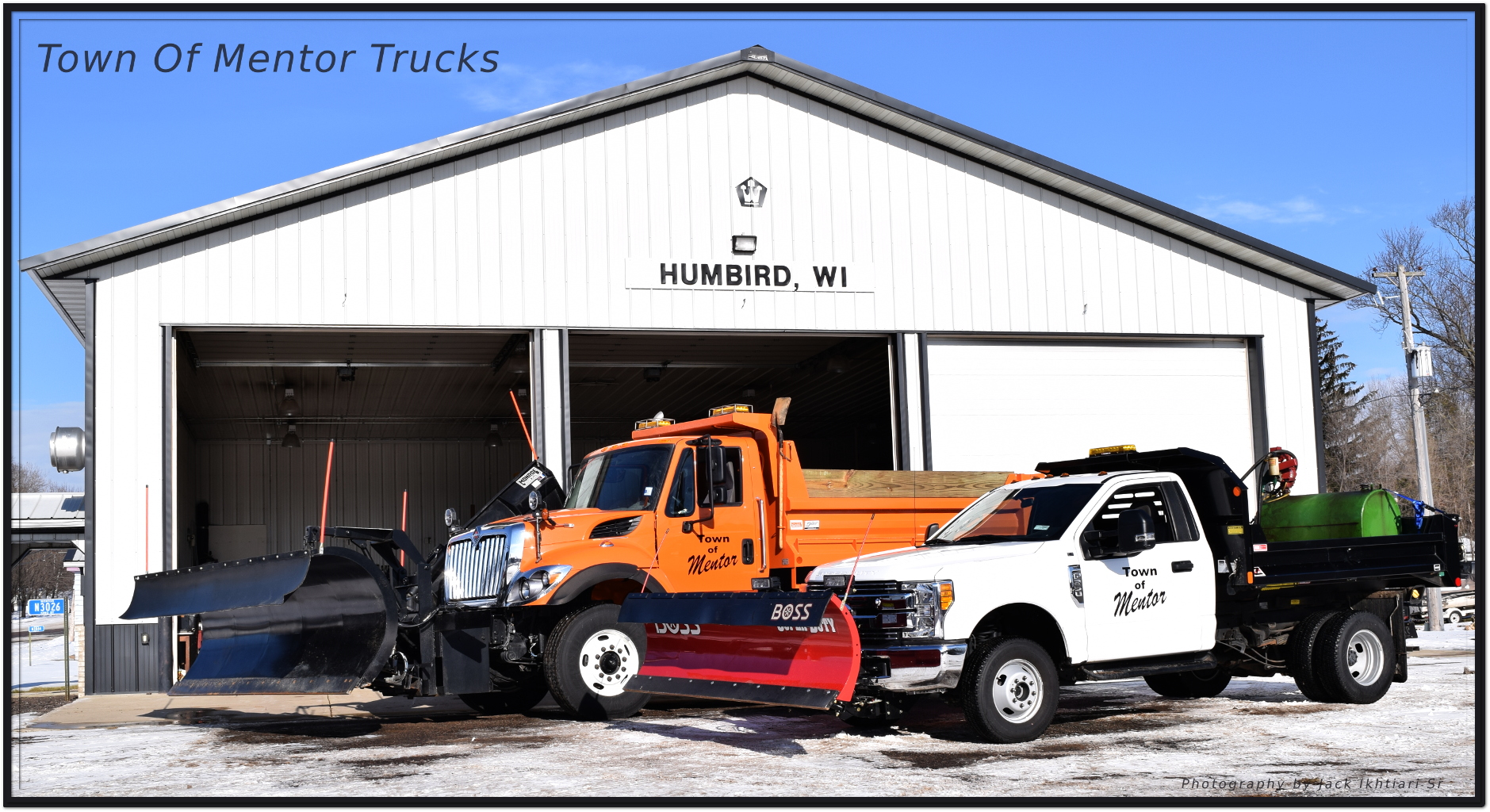 Humbird just celebrated it's 150th Anniversary. Click here to see more